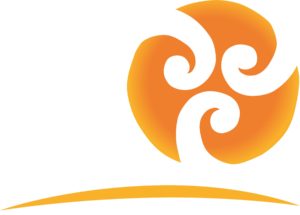 The three koru shapes represent the three original schools and they merge together to make a sun.
The sun is shown as a blazing fire rising up in the east, representing Rāwhiti School as a shining example of education in the east.
There is a oneness and harmony that this new day, and new school, brings to the community.
The sun symbol is an imperfect circle, shimmering like the sun.
It is a very organic shape and is shown slightly off centre, towards the east, rising above the horizon – to represent our vision of Rising Above the Ordinary.